Eric Liddell – Early Olympic Hero in China
Adapted from an earlier blog version by Prof Ron.  Details below.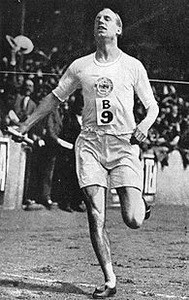 Eric Liddell was born in Tianjin, China, in 1902 of Scottish missionary parents. Later, he returned to Scotland where he was educated at the University of Edinburgh. He excelled in both his studies and a variety of sports. He continues to be remembered and celebrated both for his sporting achievements and excellence of character.
At the 1924 Olympics held in Paris he won a gold medal in the 400 m track event and a bronze medal in the 200 m event. However, there is a much larger story associated with this.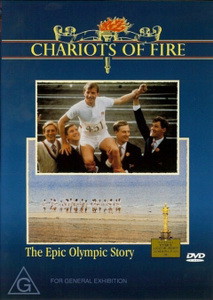 The drama surrounding Liddell and the Olympic Games has been made into the movie, Chariots of Fire (1981). It won four Academy awards including Best Picture, and the movie's theme song is a favorite to this day.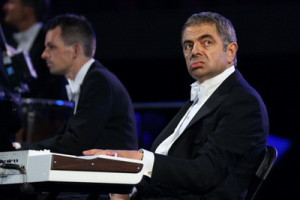 During the opening ceremonies of the London 2012 Olympics, the Liddell history was celebrated when the theme song of the movie was played (with the unlikely participation of the famous comedian, Mr Bean). Not only was the music featured at the opening ceremonies, but it was also played at each of the medal awarding ceremonies.
Many people watching the Olympics may not have understood the meaning behind the choice of music nor have known the story made famous by the movie. For English speakers around the world, however, the story and movie about Eric Liddell is quite well known.
Liddell returned to China shortly after his time at the Olympics. In China he met and married a young Canadian missionary and had children. After about 10 years in China, with the Japanese invasion got underway, Liddell sent his family to Canada. Liddell chose to stay behind. It was here, in Weifang (Weihsien), Shandong Province, that he was imprisoned with hundreds of other foreigners by the Japanese invaders and later died. In May 2013, knowing something of his life and time in China, I chose to find his burial place and visit the memorial that had been erected in his honour.
When I try to explore the history of East/West relationships and events in China, I often encounter stories of extraordinary people. Eric Liddell returned to China as part of his family's commitment to do Christian missionary work. He chose to live a life of service as a teacher, an athletic coach, and church pastor. As great as have been his athletic accomplishments, Liddell is probably best remembered today for his extraordinary courage and compassion for others. This includes the last months of his life under the hardships of the Japanese concentration camp. Among the stories written of his life in Weihsien, author Langdon Gilkey records that Liddell was as close to being a "saint… as anyone I have ever known." [See more details of life in the Weifang/Weihsien camp in a following blog]
Unlike the traders of the colonial powers that attempted to force China open for economic gain, there is a more humanitarian side to this history. Many missionaries came to China with thoughts of providing genuine helps to the Chinese people including early development of modern medicine and Western education. Although such people were not free of their cultures and attitudes from back home, most such people were humanitarians first, motivated by their belief in a God of love and compassion. They sought to serve God through giving help to others.

Liddell died of natural causes in the prison camp, but his exemplary life continues to be an inspiration of excellence and moral virtue under difficult circumstances. To his home countrymen in Scotland, he continues to be the number one sports hero to this day and to people of good will and generosity around the world his story continues to be told as a model of a life well-spent.
The people of Weifang honour his memory through the display of the beautiful memorial at the site of the Japanese Weihsien Concentration Camp.
China also celebrates the life of Eric Liddell at the famous Martyr's Memorial Park in Shijiazhuang (Heibei Province), where he continues to be honoured along with two other famous foreigners: Dr Normal Bethune (of Canada) and Dwarkanath Kotnis (of India).

[info] Photos of my visit are attached conveniently at the bottom of this blog, or they can be accessed separately at this site:
Eric Liddell Memorial in Weifang, Shandong Province
Learn more about the life of Eric Liddell online:
Wikipedia article
Information on a new Eric Liddell Scholarship, available first in 2013, at the University of Edinburgh. Twenty scholarships are to be awarded for each of four years to Chinese exchange students by this special scholarship.
This blog was adapted from East Meets West 01 — Liddell: Early Olympic Hero in China, on the Hunan Government English language website, 3Us. http://forum.3us.com/thread-64318-1-1.html [/info]
Photos below detail my search to find the Liddell Memorial in Weifang, Shandong province.
Click on first image to start the slide show (25 images).