Vancouver's Classical Chinese Garden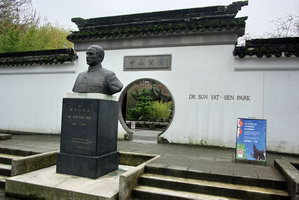 I have visited Vancouver many times, but only recently noticed a park and formal garden there named after Dr. Sun Yat-sen.  On a recent trip to visit family there (early November, 2009), I chose to check it out.   I was very pleasantly surprised.
There is both a public park and the formal garden.  They are located in the heart of Vancouver's Chinatown.  While the park is free to visit and enjoy, there is an entrance fee to the formal garden.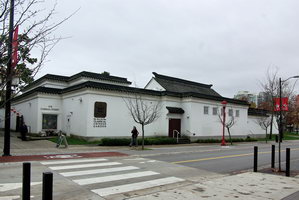 I've had the privilege of visiting a number of classical gardens in Suzhou, Jiangsu Province, not far from Shanghai.  Suzhou was one of the original centres of Chinese silk production.  It was a city of some wealth, and today many of the homes and gardens of the well-to-do have been preserved as cultural heritage sites.
This time, as I rounded the corner within sight of the buildings, I knew immediately I was encountering something which was not only Chinese, but something specific to Suzhou.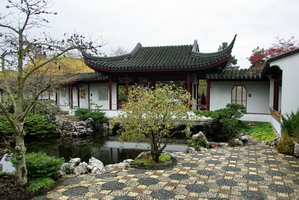 Our tour guide informed us that 50 architects and workers from Suzhou city were brought over for a year to construct this garden.  Virtually all of the authentic building materials were imported directly from China.  It purports to be the largest and most authentic classical Chinese garden anywhere outside of China itself.
The following link is to an online slideshow of almost 30 images and some descriptive information on different parts of the garden.  I much enjoyed this tour.  It was well-worth the $10 entrance fee.  I hope you will enjoy it too.
Click here for my Windows Live album:
Vancouver's Classical Chinese Garden
Latest update:  2009/12/11.